Winter Food Drive 2018
Thank you to everyone in the Ard Rí CNS community who contributed so generously to the Winter Food Drive again this year. This campaign has grown from strength to strength and this year we are delighted to donate to two charities; Navan Meals on Wheels and the Meath Food Bank.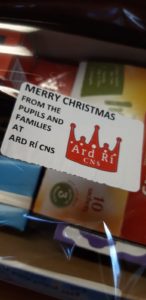 Our Parent Association organise this event every year and were on hand to divide the food into hampers which will be delivered directly to the charities. We have tried a few different means of donating to charity at Christmas time but the simple giving of food to needy people in our Community is one which children grasp and and can relate to. Community Focus is a cornerstone of the Community National School ethos. Supporting charity is a great way to exercise our 'Attitude of Gratitude'.