About Ard Rí CNS
Ard Rí is a recently established Community National School, opening its doors in September 2010. Our school community has grown steadily over of the years, enrolling one class of Junior Infants in each year of development. We have grown from having just 7 children enrolled in Junior Infants in September 2010 to having 272 children from 180 families in September 2020. We have created an entirely inclusive and respectful learning environment where all children regardless of nationality, race or creed feel valued and nurtured in their development.
In our 2016 WSE 96% of pupils said they like this school
Ard Rí CNS is first and foremost a school. Our main aim is to provide the best quality education to the children in our care. Children of all religious beliefs and none; have those beliefs nourished within the school day. Our starting point in everything we do is not what separates us but rather what we have in common; which provides an infinitely stronger basis on which to develop a learning community. The principles of active tolerance and mutual respect are the cornerstones on which our school community is built.
In our 2016 WSE 99% of parents said they feel welcome in this school
The school name 'Ard Rí' means 'High King' in Irish. We are located in the heart of the Boyne Valley, only a few hundred meters from the River Boyne. The Hill of Tara, which is where the ancient High Kings of Ireland sat in Celtic times, is on our doorstep. It is said also that the legendary Salmon of Knowledge was caught from a pool in the river under a hazel tree near the end of our lane. We love to instil a good knowledge of the heritage of the area into our students and we visit The Hill of Tara regularly.
In March 2021 we received confirmation from the Department of Education that the construction of a new school for Ard Rí CNS has been approved to proceed. The development, which will be located on nearby Academy Street will include 16 classrooms, a GP hall, 3 Special Ed rooms and 4 Special Needs classrooms. The construction process is part of a larger development of land on Academy street and will take a few years to complete but it is a huge step forward for the school.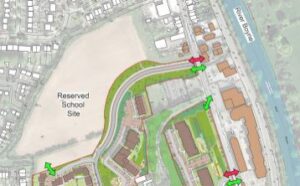 Green Field Site for New School Campus on Academy Street  
Staff 2020-2021
Principal – Darragh Roe
Deputy Principal – Emer Kavanagh

Junior Infant Teacher – Sarah Curran
Junior & Senior Infant Teacher – Karen Dunne

Senior Infant Teacher – Karen Dillon
First Class Teacher – Sabrina Comer
Second Class Teacher – Cailín Ní Dhonncha

Second Class Teacher – Rachel Condon
Third Class Teacher – Edel Barry & Catherine Duplaa
Fourth & Fifth Class Teacher – Sarah Curran
Fourth & Fifth Class Teacher – Niamh Hogan
Sixth Class Teacher – Jack Scannell
Special Education Team – Emer Kavanagh & Catherine Dooley
Special Needs Assistants – Nuala Flanagan, Irene Carr, Margaret Fitzgerald, Kay Cassidy & Linda Smith