13.09.2021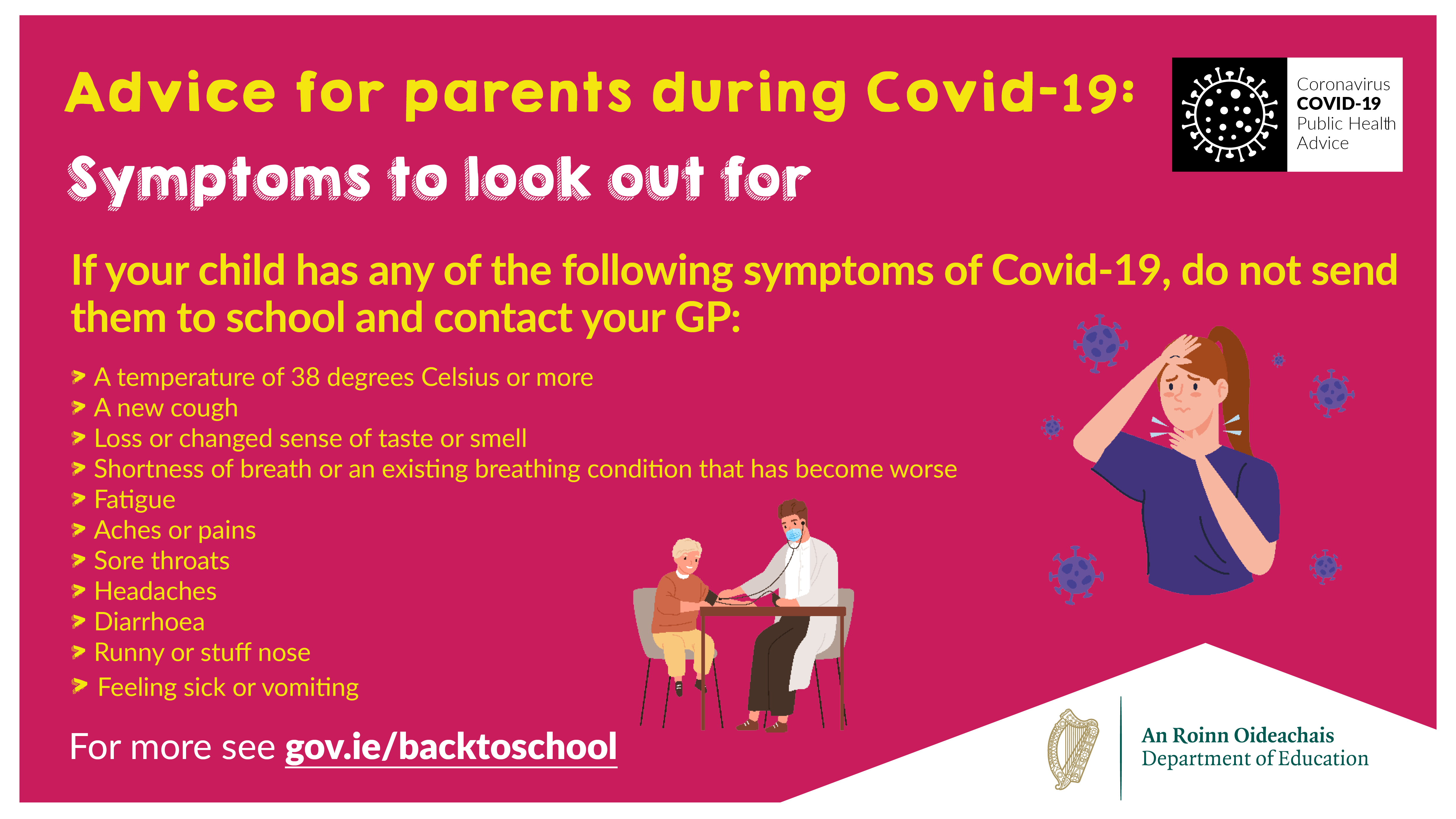 ---
07.09.2021
A rise in cases of Covid-19 among pupils and staff in local schools is a reminder to us all we must continue to implement Covid-19 control measures.
Do not send your child to school or childcare if they have  the following symptoms of COVID-19
a temperature of 38 degrees Celsius or more
a new cough – this can be any kind of cough, not just dry
loss or changed sense of taste or smell
shortness of breath
If your child has any of the above symptoms of COVID-19:
Isolate your child from other people – this means keeping them in a room on their own and completely avoiding contact with other people, as much as possible.
Phone a GP – they will tell you if your child needs a COVID-19 test.
Everyone your child lives with should restrict their movements. This means not going to school, childcare or work until it is safe to do so.
If your child has other symptoms not commonly associated with COVID-19
Less common symptoms of COVID-19 include:
sore throat
headaches
feeling sick or vomiting
If your child has any of these symptoms keep them at home for at least 48 hours. It's unlikely they have COVID-19, but they could be a sign of another infectious illness.
The people your child lives with do not need to restrict their movements as long as they feel OK.
After 48 hours it's OK to send your child back to school or childcare as long as:
their symptoms do not get worse
they do not develop new symptoms
they have not had paracetamol or ibuprofen during these 48 hours – this may hide a fever if they have one
no one else they live with is ill or has tested positive for COVID-19
Runny nose or sneezing
If your child only has a runny nose or is sneezing, it is OK to send them to school.
Source: HSE Website: https://www2.hse.ie/conditions/covid19/symptoms/symptoms-child/