On a Tuesday night every metre of track and field at Claremont Stadium is packed with boys and girls training for Navan Athletics Club. You will find lots of the Ard Rí Community among the athletes, coaches, volunteers and spectators and plenty of the Ard Rí mums, dads and teachers will be at the adult training afterwards. Claremont is also home to PT Fitness, Badminton, Basketball, Soccer, Wheelchair Sports, Special Olympics, Navan Men's Shed. After 20 years of training for all ages and abilities and hosting schools, county and provincial competitions the track at Claremont is worn and torn. This summer a new state of the art track is being installed and the club need to raise €50,000 to get the job over the line.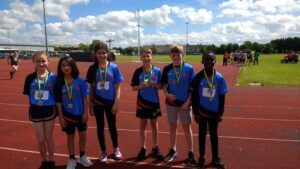 Ard Rí CNS medal winners 2019 schools competition at Claremont Stadium
How can we help?
Family Fitness Challenge, can you match the Tully Family, Tag a family you know with the #60SecondChallenge donate, if you can, to the #NTN fundraiser to be in with a chance to win a voucher from The Sports Den Navan.

Posted by New Track For Navan on Tuesday, June 23, 2020
Keith's 24 hour run for New Track at Navan

Keith talks about this ultra tough challenge he has set , to help raie awareness for the reason why we need the new track. It is a good reason – we wore the old one out! Thank you to everyone who has donated todate and to everyone who has shared the posts. Donations are being accepted on gf.me/u/x6g9yg

Posted by New Track For Navan on Saturday, June 20, 2020
We look forward to bringing our boys and girls to Claremont stadium to try out the new track next year.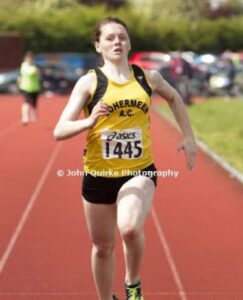 Múinteoir Karen representing her club Bohermeen AC at Claremont Stadium