Wednesday 1st & Thursday 2nd April
Ard Rí CNS- Home-Based Learning 2020 Edition 4
Here is latest Home Based Learning Guideline link. A blended approach incorporating aspects of these Inquiry-Based activities, the work pack we sent home, some reading, a few chores, the RTE Home School Hub and whatever springs from your own expertise and the funds of knowledge available in your home will work best. Do whatever you need to do to get through! The teachers are working hard this week to put a system in place which will allow them engage online with their pupils in a more tailored manor. This will be in place after Easter. Thank you to everyone who is sharing snippets from their own personal experiences of learning at home on Twitter. Share your hard work with the community @ArdRi_CNS !!
'If we winter this one out, we can summer anywhere.'- Seamus Heaney
---
Monday 30th & Tuesday 31st March
Ard Rí CNS- Home-Based Learning 2020 Edition 3
I hope everyone is keeping safe and well. In a time when families are under pressure from many directions I hope your child's school work is not adding to that pressure. Let me explain…the school curriculum works in two year blocks. The focus of the final school term is never academic. It is when we have our school tours, fun days, Active Weeks etc. Most of the academic learning objectives have either been covered in the previous year and a half or will be covered when we return to school. You are not expected to be a teacher.  These Home Based Learning Guidelines are ideas of activities you can do as a family to keep positive and occupied during this time.
Schools are to remain closed until 19 April. However, in reality, this is uncertain. We are working as a team to put systems in place for our teachers to engage with their pupils in a tailored manor. There are directions in this Home Based Learning Pack on how to access your child's Planet Maths Books and Resources on the Folens website. I encourage you to sign up to Folens and to let your child choose a page or two to complete as revision. This will be a first step to this pupil teacher interaction.
None of this is mandatory. It will begin after the Easter break. We will not be covering any new material in the course of this distance learning. It will be revision and consolidation of topics already covered. It will only take a few minutes a day to complete. There will still be a focus on inquiry based activities you can complete with all your family.
As a school the support we can offer you is limited. The most important thing you can do is love your children and support them through this difficult time. Look after yourselves and don't let this school work be something that stresses you or your child.
---
Wednesday 25th & Thursday 26th March
Ard Rí CNS- Home-Based Learning 2020 Edition 2
Every day at 11am, you can listen one of David Walliams' World's Worst Children stories, so sit down, take a break, and enjoy 20ish minutes of pure fun!
---
Monday 23rd & Tuesday 24th March
Ard Rí CNS- Home-Based Learning 2020 Edition 1
---
22.03.2020
Dear Community,
The reality of the scale of the Covid-19 Pandemic and the impact it will have on our daily lives is settling in. Social-distancing is a massive change for a community which was so close knit. For some of our families one or both parents are working long hours on the front line in supermarkets, hospitals, fire-brigade etc. (not all superheroes wear capes). Parents are juggling minding children and working from home. Many of our families are coming to terms with unemployment and with a forecast of 15,000 to contract the virus by the end of the month many will be ill and self-isolating. Grandparents who were daily support to our children are most vulnerable and are not there to support busy families.
This level of change can be stressful and I am aware it is important what we are asking families to do school wise isn't causing additional strain. Please do not feel it is necessary to set up a 9-2.40 school regime in the home. In school children only work independently for very short periods of time. Most of the time is spent playing, in discussion, doing group work and paired work. Use your family's own 'Funds of Knowledge' to guide what distance learning looks like in your home. Encourage your children to read as often as they can, engage them in fun activities where possible. Prepare meals together. If you are a baker bake together. If you enjoy science do science. If you like to work-out do home work-outs together.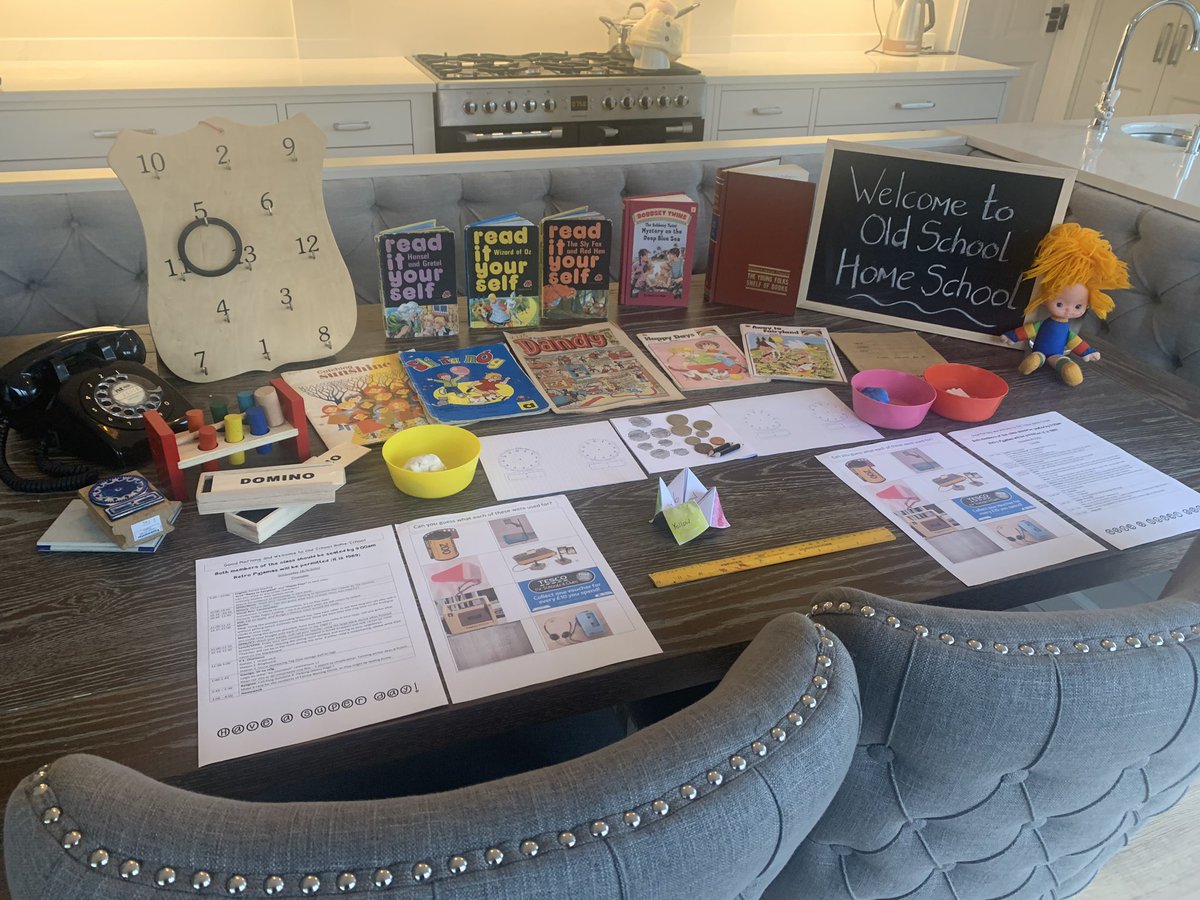 Team-work; Set your children up to work together. Use what resources you already have. (pic Michelle Culloty)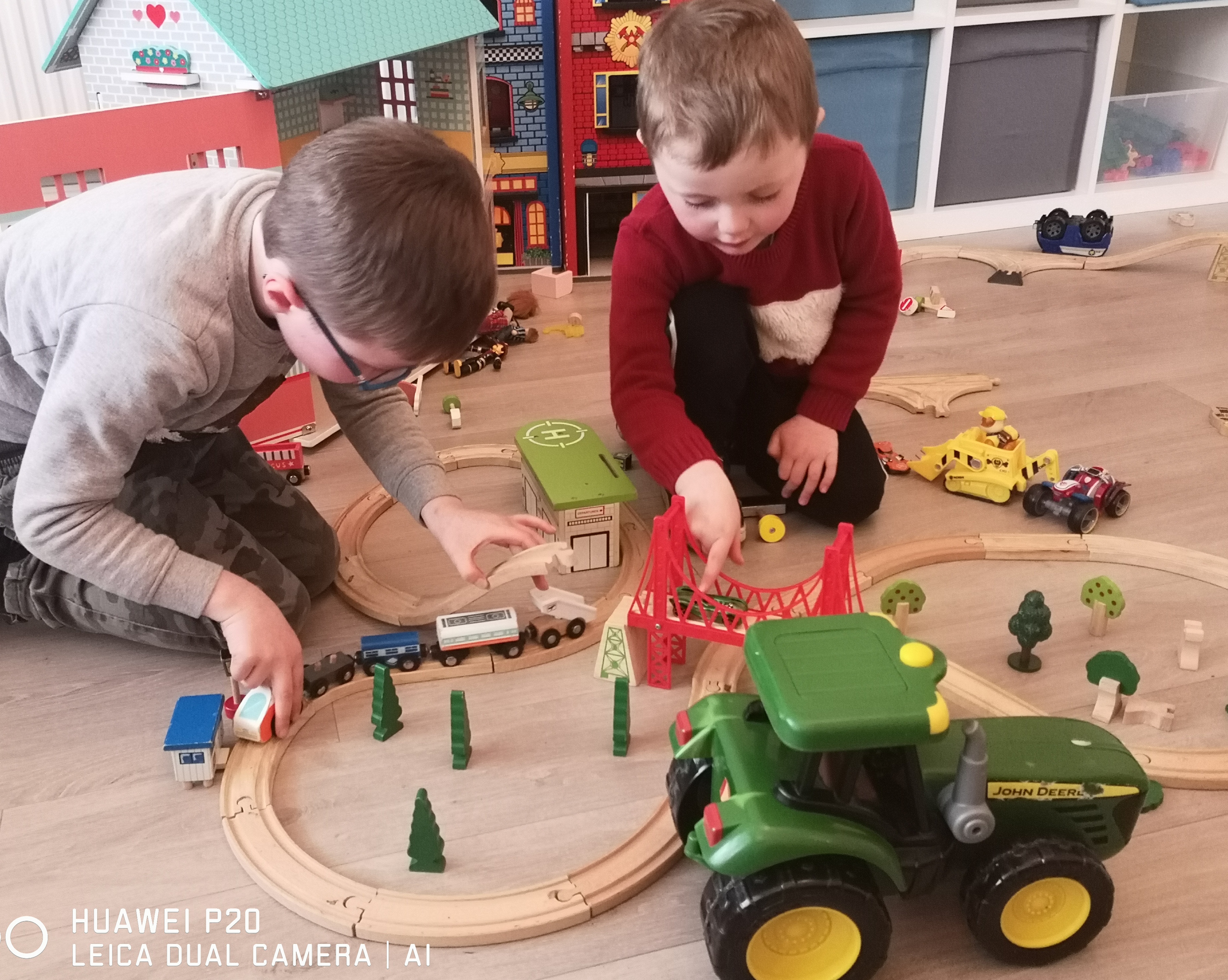 Play is a huge part of the Primary Curriculum.
We will not be uploading a separate page for every class group. Every few days we will be uploading a learning page to suggest tasks which you can do with your children. Set up a learning station with pencils, paper, some books, some toys, a jigsaw, LEGO and whatever else you have. I think this approach will be more successful especially if you have more than one child in the school. Pre-schoolers welcome! Everyone can work together and the little ones can learn from the big ones. The children can complete the tasks at their own level; for example Infants may draw a picture which you label together and senior classes may do a project which they research online, draft, publish and present to the family. The tasks and projects will be varied- Visual, Musical, Physical, Interpersonal, Verbal, Logical, Naturalistic. There is no perfect way to do this. You do not have to complete every task. These are only suggestions to support and direct you. Have fun and keep it positive.
Finally, feel free to share your learning with us on Twitter @ArdRi_CNS