Dear Ard Rí Community,
Staffing arrangements in Primary Schools for the 2020/21 school year are laid out in Department of Education Circular 0018/2020 . Our predicted September enrolment is 270 pupils. This allows us 10 mainstream class teachers. If, for any reason, your family will not be coming back to Ard Rí in September please let us know as knowing our predicted enrolment is very important.
We will organise the 10 teachers as follows: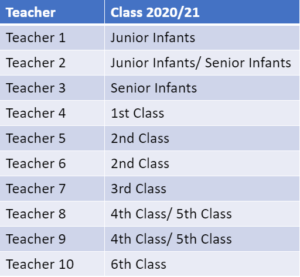 There are two main areas of change:
2020 Senior Infants will be in two groups; Teacher 2 will teach Junior Infants and Senior Infants together in multi-grade and Teacher 3 will teach Senior Infants in single-grade.
2020 4th and 5th Classes will be split into two multi-grade classes; Teacher 8 will teach one set of 4th and 5th Class together and Teacher 9 will teach the other set of 4th and 5th Class together. Both in multi-grade.
When dividing classes we balance; age, gender, siblings, Special Educational Needs and any other dynamics which may exist. Friendship is an important dynamic. If your child is going into Senior Infants, 4th Class or 5th Class we invite you to email us on [email protected] a list of 2 or 3 friends your child would like in their class next year. It will not be possible to keep all friends together but we will try. If you would like your child to be in the Junior Infant/ Senior Infant multi-grade with Teacher 2 as above you can also let us know by email. Please notify us before close of business on Thursday.
We will let you know which teacher each class will have as soon as we can.
Regards and thanks,
Darragh