Junior Infants learn about Eid
Tweets by ArdRi_CNS <![CDATA[ !function(d,s,id){var js,fjs=d.getElementsByTagName(s)[0],p=/^http:/.test(d.location)?'http':'https';if(!d.getElementById(id)){js=d.createElement(s);js.id=id;js.src=p+"://platform.twitter.com/widgets.js";fjs.parentNode.insertBefore(js,fjs);}}(document,"script","twitter-wjs"); // ]]>

Notice Board
Welcome back everyone.
Ard Rí Community NS is off to a busy start this September. We welcomed 40 new Junior Infants to our school community. We also welcome Múinteóirí Ciara, Edel and Karen to our teaching team. This year we are paying particular attention to our Physical Health. We will be keeping active and eating lots of yummy fruit and veg. Check out our new Healthy Eating Policy. We have rugby, Gaelic and athletics coaches coming in to our school to keep us on our toes. We are also making changes to our yard routines to make sure we are safe and active on yard.
If your child is ready for school please come along to our Open Evening on Thursday 28th of September at 7.30pm. At the Open Evening management, staff, parents and most importantly pupils will welcome you to the school. There will be a presentation about life in the Ard Rí Community and plenty of opportunity for us to answer any questions you might have.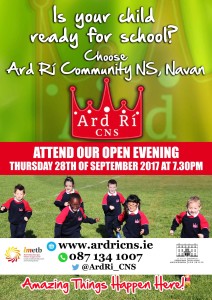 ---