Tweets by ArdRi_CNS <![CDATA[ !function(d,s,id){var js,fjs=d.getElementsByTagName(s)[0],p=/^http:/.test(d.location)?'http':'https';if(!d.getElementById(id)){js=d.createElement(s);js.id=id;js.src=p+"://platform.twitter.com/widgets.js";fjs.parentNode.insertBefore(js,fjs);}}(document,"script","twitter-wjs"); // ]]>

Junior Infant Admissions September 2020
As per our Admissions Policy for Academic Year 2020-2021  there are just a small number of places available in Ard Rí Junior Infants for September 2020.
The Application Date has now passed. If you want to secure a Junior Infant place for September 2020 do not delay. Call us on 087 1341007 today.
Almost all our classes are now closed to mid-year transfers. If you are new to the area and are looking for a school place feel free to give us a call. We will support you as best we can. Places at Ard Rí Community NS are not guaranteed.
Darragh Roe (Príomhoide)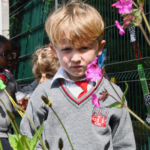 More Info