Tweets by ArdRi_CNS <![CDATA[ !function(d,s,id){var js,fjs=d.getElementsByTagName(s)[0],p=/^http:/.test(d.location)?'http':'https';if(!d.getElementById(id)){js=d.createElement(s);js.id=id;js.src=p+"://platform.twitter.com/widgets.js";fjs.parentNode.insertBefore(js,fjs);}}(document,"script","twitter-wjs"); // ]]>

OPEN EVENING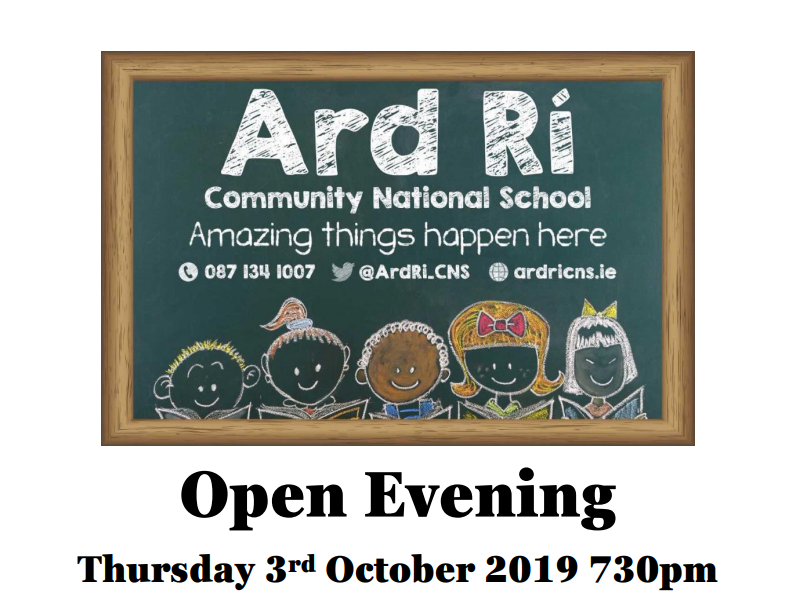 We have all seen Ard Rí Community NS grow from strength to strength. We opened our doors in 2010 with only 7 children. Today we have 260 children from over 170 families enrolled. Enrolments are strong for September 2020 but there are still places available.
We are holding an Open Evening on Thursday 3rd of October at 7.30pm to showcase our school. New families are welcome to attend. It will be a great opportunity to have a look around and to meet pupils, parents, teachers and management.
If the night doesn't suit please give us a call on 087 1341007 and we will arrange a time for you to pop in and see our lovely school.
We know choosing a school is a huge event in the life of every family. We want your child to be the very best they can be just the same as you do. 
We look forward to welcoming you to the Ard Rí Community.