To continue with the ability to provide our children with fantastic workshops and learning opportunities, as well as information training course for parents – we need to fundraise! This school year, the Parents Association are working to raise €2500.
If you have any fundraising ideas, please let us know.
We will be doing electronic recycling in January. The list for what is accepted is:
games consoles – Wii, Xbox, Playstation, DS & all games and controllers
Smart phones – iphone 4,5,6 / Huawei / Samsungs / HTC / any android phone
electronics: ipods/e-readers/tablets/digital cameras/ laptops/Blu-ray players / DVD players/external hard drives
DVD/Blu-Ray movies
---
Tesco Blue Tokens
We are delighted that Tesco Navan Community Projects have included our school in their blue token program. €1000 is divided amongst the candidates every 8 weeks, with the recipients receiving a cash donation based on the weight ratio from the amount of blue tokens put into their respective tubes.
If you shop in Tesco Navan please help support our schools fundraising efforts with your blue tokens!
---
Winter Show Cake Sale & Raffle
Our annual Winter Show cake sale and raffle was a fantastic event. We are so thankful to all families who donated baked goods towards the cake sale and to the parents who arranged for sponsored raffle prizes. It really does take a team! We raised €930.
Raffle Prize Winners:
The following tickets were drawn and prizes can be collected from the school with your matching tickets!
Pink Ticket:- 196-200     Name on stub: D. Caffrey
Yellow Ticket:- 151-155   Name on stub: O. Rogers
Yellow Ticket:- 486-490 Name on stub: S. Trehy
Pink Ticket:- 226-230     Name on stub: H. Connors
Blue Ticket:- 206-210     Name on stub: M. Bradley
Yellow Ticket:- 476-480 Name on stub: S. Trehy
Yellow Ticket:- 441-445  Name on stub: T. O'Reilly
Blue Ticket:- 137-140      Name on stub: D. Downey
Yellow Ticket:- 211-215   Name on stub: O. Hughes
Blue Ticket:- 216-220     Name on stub: M. Bradley
Blue Ticket:- 191-195      Name on stub: C. Heneghan
Yellow Ticket:- 226-230 Name on stub: G. Delahunt
---
Saturday 17 December – Carol Singing in Navan Shopping Centre
Girls and Boys from all classes sang their hearts out in Navan Shopping Centre. It was a great turn out and we raised €700.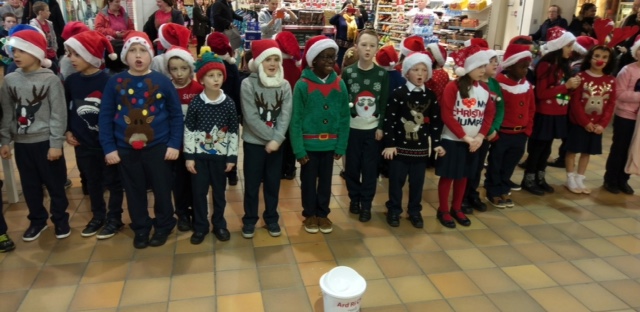 Thank you to all families who gave their time to come down and support the children. Singing in public can be very daunting but we all did wonderfully!
---
We kicked off our 2016/2017 fundraising with a Clothing Collection on Wednesday Oct 19 at 9am. We collected 64 bags and raised €352.
We will do another clothing collection in the spring.
We accept full black bags of clothes, shoes, sheets, coats. No duvets or pillows can be accepted.